Our team includes experienced and knowledgeable automotive technicians who specialize in truck service.
Trucks are vital to the country's economy and supply chain, as well as to various industries. Those who drive trucks for a living play a part in ensuring that stores are stocked with the supplies people need and construction sites receive their necessary materials. Although trucks are durable and able to withstand a lot, they can break down and require some attention. It can be a challenge to find a provider of truck service who has the experience and skills needed to work on a wide range of truck options. Some only specialize in smaller trucks, while others steer clear of diesel-powered engines. At Eller Diesel & Truck Trailer Repair, we can take care of all your truck needs. Our truck services include truck and diesel repair, RV repair, and trailer repair, as well as roadside assistance and trailer washouts.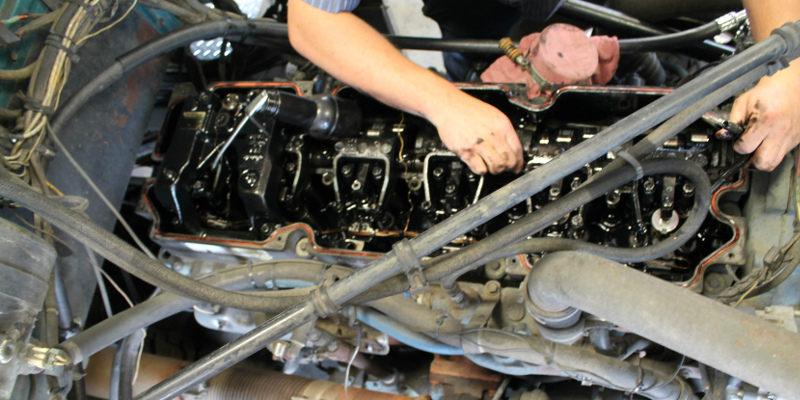 When you realize there's an issue with your truck, the first step is contacting us. If you can't get to our location, which is conveniently located for those in and around Lexington, North Carolina, we offer emergency roadside assistance to help you get off the road to safety. If you are able to bring your truck, stop by and we'll begin by running some diagnostic tests to figure out what is causing the problem. From there, we'll come up with a plan to repair the truck, whether that requires replacing a part or performing a more extensive repair.
Our team includes experienced and knowledgeable automotive technicians who specialize in truck service. We can diagnose and repair a wide range of issues that might be causing your truck to drive poorly, emit strange sounds, or struggle to get up and going.  As a one-stop automotive shop for all your large vehicle needs, we can become your go-to partner for truck and trailer repair, as well as other truck services. We work with individual truck owners, trucking company owners and owner-operators, and others who might need truck service.
One of our most common truck service offerings is a trailer washout, which is an effective way to remove road dust and grime that come with the job. Whether you use your truck to handle construction work or transport heavy loads across state lines, you know the trailer can get dirty very quickly. On your way back, stop by our shop, and we'll give your trailer a professional washout to help it look its best. After all, the appearance of your trailer plays a role in how people might perceive the business and the services you offer. Keeping it clean can make a big difference in the way others view your company and whether they can trust you to handle their needs.
As a trusted truck service provider in the area, we understand the needs of our clients. We specialize in heavy-duty vehicles, including large semi-trucks, so we can provide the support and service you need to get back out on the road as soon as possible. Contact us today or bring your truck in for service.
---
At Eller Diesel Truck & Trailer Repair, we offer truck service to those in Salisbury, Granite Quarry, Rockwell, Landis, Kannapolis, Lexington, China Grove, Cleveland, Mooresville, Faith, Gold Hill, Richfield, Albemarle, and Concord, North Carolina.