When you need semi-truck repairs, turn to our skilled mechanics.
Semi-trucks are an essential component in supply chains across the country, but finding a reliable mechanic who is not just vaguely familiar with semi-truck repair work but who excels at it can be challenging. While general mechanics aren't scarce, the ones who are trained in how to diagnose and repair semi-trucks often are. Here at Eller Diesel Truck & Trailer Repair, we have a team of expert mechanics who are ready to help you keep your semi in excellent condition and handle any of the repairs you might need.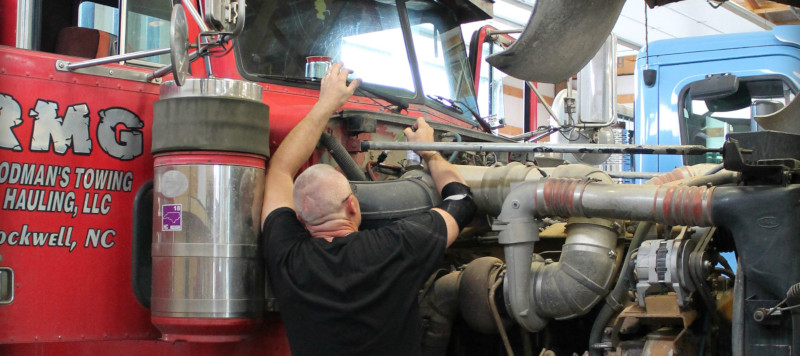 One of the things that set us apart from other places that offer semi-truck repair services is that we have an intensive diagnostic process that allows us to get to the bottom of issues that leave other mechanics stumped. We also benefit from being a family-owned and -operated business with decades of combined experience, which we use to our customers' advantage. For example, many semi-truck repair shops aren't able to provide engine services, but our skilled team has the expertise to work on all kinds of semi-truck engines, including CAT, Volvo, Paccar, and more.
We also take great pride in providing prompt, efficient service for our customers since we understand that most of our clientele are operating on tight deadlines. When you come to us for a semi-truck repair, we'll work hard to determine the cause of the problem quickly and provide an effective solution so that we can get you back on the road as soon as possible. If you experience a breakdown before you can make it to us, we also offer roadside assistance and can tow your rig back to our shop for the necessary repairs.
If you're in the Mooresville, North Carolina area and need someone you can count on to handle your semi-truck repair needs, don't hesitate to reach out to us.
---
At Eller Diesel Truck & Trailer Repair, we offer semi-truck repair services to those in Salisbury, Granite Quarry, Rockwell, Landis, Kannapolis, Lexington, China Grove, Cleveland, Mooresville, Faith, Gold Hill, Richfield, Albemarle, and Concord, North Carolina.